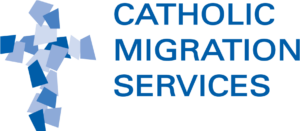 FELLOWSHIP OPPORTUNITY: FALL 2024
Catholic Migration Services, a nonprofit provider of free legal services, and an affiliated agency of Catholic Charities Brooklyn and Queens, is seeking a candidate to sponsor for a post-graduate legal fellowship in our tenant advocacy or immigration programs starting in the fall of 2024 (applications to fellowship foundations due fall 2023).   Fellowship programs include the Skadden Fellowship Foundation and similar programs.
Qualifications:
Applicants should be rising third-year law students, recent law graduates with judicial clerkships beginning in the fall of 2024, or current judicial law clerks;
Admission to the New York Bar, or taking the New York Bar Exam not later than July 2024;
Proficiency in a second language is strongly preferred, including but not limited to Spanish, Kreyol, French, Mandarin, Cantonese or Arabic;
A demonstrated interest in public service, including but not limited to serving low-income immigrants or tenants is strongly preferred; and
Strong oral advocacy skills, as well as analytical and writing skills.
Application Process:
Please send a cover letter, resume, law school transcript and list of three references by email to Magdalena Barbosa, Legal Director, at mbarbosa@catholicmigration.org.  Inclusion of a fellowship project proposal (i.e., what work within the tenant advocacy or immigration arena you propose to do) is recommended, but not required.  Applications will be considered on a rolling basis through September 1, 2023.
Additional Information:
Catholic Migration Services values workplace diversity and welcomes applicants of all backgrounds. Catholic Migration Services makes all employment decisions without regard to any applicant's or employee's protected characteristics, including their race, religion, color, national origin, immigration status, age, disability, sexual orientation, gender identity, arrest conviction record, or marital status. Catholic Migration Services is unionized under the Association of Legal Aid Attorneys, UAW, Local 2325.
---
Download this Fellowship Opportunity as a pdf: Fellowship Opportunity for Fall 2024