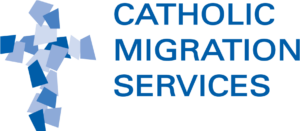 JOB ANNOUNCEMENT: PART TIME ADMINISTRATIVE ASSISTANT
Catholic Migration Services ("CMS"), a nonprofit provider of legal services and affiliated agency of Catholic Charities Brooklyn and Queens, is seeking a part-time Administrative Assistant for its Removal Defense Program (RDP) and Pro Se Plus Project (PSPP).  CMS provides free legal services to low-income immigrants in the areas of immigration, housing and employment law.  Our RDP team provides legal assistance and representation to non-detained individuals in removal proceedings.  PSPP is part of RDP and provides pro se assistance with certain applications to those who cannot find legal representation. More information about our organization and our work is available at www.catholicmigration.org.
The Administrative Assistant will support RDP and PSPP teams at both our Brooklyn and Queens offices and will be based in the Brooklyn office. The Administrative Assistant must be punctual, well-organized, and have the capacity to prioritize and manage multiple tasks.
Essential Duties and Responsibilities
Provide support to RDP and PSPP teams, including assistance making appointments, copying/scanning documents, mailing, filing, communicating with clients, taking filings to immigration court, and monitoring PSPP's online screening system;
Answer and manage phone calls and text messages from clients, prospective clients, and PSPP participants; make appointments, provide appropriate requested information to visitors, staff, clients and program participants;
Help coordinate logistics for on-site and off-site legal clinics and events; and
Data entry into our client database.
Qualifications
Intermediate computer skills; working knowledge of Microsoft Office (Word, Excel, PowerPoint);
Fluency in Spanish;
Ability and experience working with clients from diverse backgrounds and communities;
Excellent communication and organizational skills; and
College Graduate preferred (minimum of High School diploma).
Diversity and Non-Discrimination Policy
CMS values workplace diversity and welcomes applicants and employees of all backgrounds. CMS strives to create a positive, supportive, and inclusive work environment for all staff.  CMS makes all employment decisions without regard to any applicant's or employee's protected characteristics, including their race, religion, color, national origin, immigration status, age, disability, sexual orientation, gender identity, arrest or conviction record, or marital status.
Salary and Benefits
CMS offers a competitive salary and benefits package and generous leave policies.  Salary is based on a Union salary scale.  The salary range for individuals with one to three years of experience is $28,537 to $29,577 for a 20 hour work week.
Union Representation
This is a bargaining unit position represented for collective bargaining purposes by the Association of Legal Aid Attorneys, UAW, Local 2325.
Application Instructions
This position is available immediately, and applications will be considered on a rolling basis.  To apply, email a cover letter and resume to Magdalena Barbosa, Legal Director at mbarbosa@catholicmigration.org.  Please include "Administrative Assistant Application" in the subject line.
---
Download this Fellowship Opportunity as a pdf: Part Time Administrative Assistant