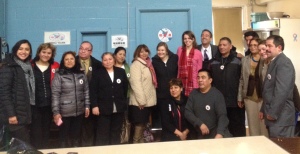 On Sunday December 14th 2014 CMS staff Alice Davis, Quetzalli Rocha, and Rebecca Rybaltowski attended a community meeting put on by Faith in New York, Our Lady of Perpetual Help, and the Juan Newman Center at the Notre Dame Hall at Our Lady of Perpetual Help Parish. This programming was made possible in part by the support of New York City Council Member Carlos Menchaca. Over 150 community members attended this event. Bitta Mostofi the director of the Municipal ID Outreach Campaign discussed the new Municipal ID program. Father Piedra from Our Lady of Perpetual Help Parish discussed President Obama's new Administrative Relief.
CMS Linea Laboral Operator Quetzalli Rocha led a presentation on workers' rights and if these rights have been violated the process involved in filing a complaint.  Linea Laboral is part of the CMS Immigrant Workers' Rights Program (IWRP), it is a call center for workers to learn about their labor rights and report abuses. Linea Laboral works in partnership with the U.S. and New York State Departments of Labor, the New York City Office of the Comptroller, the Occupational Safety and Health Administration, and the consulates of several Latin American nations to assist immigrant workers in defending their rights.
For more information on IWRP please click here.