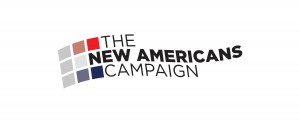 Catholic Migration Services is proud to be part of The New Americans Campaign, an unprecedented national effort that is paving a better path to citizenship and helping legal residents achieve their dream of becoming American citizens. The New Americans Campaign is a nonpartisan network of more than 80 legal-service providers, businesses, faith-based organizations, community leaders and foundations, working to modernize the system of naturalization assistance and to help more legal permanent immigrants become U.S. citizens.
Because when new Americans gain the rights, freedoms and responsibilities of citizenship, they also contribute more fully to the vitality of our communities and our democracy as a whole.
To qualify for citizenship, applicants must:
Be at least 18 years old

Be a permanent resident (have a Green Card) for at least 5 years, or 3 years if by marriage

Meet residence requirements

Have good moral character for at least 5 years
CMS is proud to have been selected as one of six local partners in New York City with The New Americans Campaign.  We look forward to a successful project which will bring the benefits of citizenship to many people in Brooklyn and Queens.
CMS' Citizenship team is led by Sharone Schwartz-Kaufman, Supervising Immigration Attorney.  She is assisted by staff members and volunteers including Julia Hernandez (Immigration Staff Attorney), Christopher Holtz (Immigration Staff Attorney),  Sr. Joan Anzalone (Immigration Counselor/BIA Accredited Representative), Marisol Canales (Immigration Counselor/BIA Accredited Representative), Jeanne Sanon (Immigration Counselor/BIA Accredited Representative), Corrylee Drozda (Immigration Counselor/Jesuit Volunteer), Megan Helbling (Immigration Counselor/Outreach Specialist), and Anne McCabe (Immigration Counselor/Mercy Volunteer).
Read more about this groundbreaking initiative focused on innovation and collaboration at www.newamericanscampaign.org.
For more information, or if you believe you are eligible for U.S. citizenship, please contact CMS' Brooklyn office (718-236-3000) or Queens office (347-472-3500) to schedule an appointment with an immigration counselor.