Friday, March 22, 2013
On Friday, Catholic Migration Services hosted its first naturalization workshop using CitizenshipWorks, a multilingual online platform that guides aspiring citizens through the application process. The event was co-sponsored by the NALEO Educational Fund, Immigration Advocates Network, CUNY Citizenship Now!, Pro Bono Net, and the International Rescue Committee at the central branch of the Brooklyn Public Library.
CitizenshipWorks is an online tool for legal permanent residents interested in becoming U.S. citizens. Potential applicants can learn more about the naturalization process; take a test to learn if they are eligible for naturalization; find resources to prepare for the naturalization tests on the English language and U.S. history & government; and locate local legal services providers for application assistance. The website is currently available in English, Spanish, Chinese, and Vietnamese, with other languages slated for the near future. CitizenshipWorks is a project of the Immigrant Advocate Network and the Immigrant Legal Resource Center.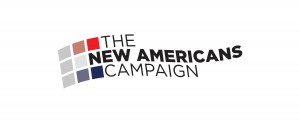 The event was part of Citizenship Week (March 16-23), a week-long series of events on the citizenship process to celebrate the New York City launch of the New Americans Campaign, of which Catholic Migration Services is a NYC local partner. Click here to read our press release highlighting the week's success!
This workshop was the first of many collaborations between the Brooklyn Public Library and NAC partners to bring free citizenship services to Brooklyn residents."We are thrilled to take part in the New Americans Campaign and especially proud to host CitizenshipWorks naturalization workshops in our new Shelby White and Leon Levy Information Commons," said Richard Reyes-Gavilan, Chief Librarian at Brooklyn Public
Library. "Providing access to technology and training on online resources is key to fulfilling our mission, particularly as we serve an increasingly diverse population throughout Brooklyn."
If you are interested in applying for U.S. citizenship, please contact our Queens office at (347) 472-3500 or our Brooklyn office at (718) 236-3000 to make an appointment with an immigration counselor.