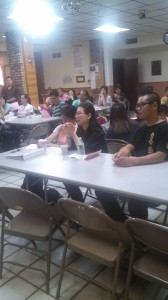 On Sunday, June 15 CMS attorneys, staff and legal interns led an informational session for the Chinese speaking community of St. Rosalia's church in Brooklyn. Parishioners learned about CMS' 3 legal services and they learned about how the Chinese speaking community can access our free legal services.
Staff Attorney Kenny Minaya spoke about CMS' Immigrant Tenant Advocacy Program. During his presentation of the program he highlighted our free legal housing clinics. Immigration Counselor Marisol Canales informed parishioners about the affirmative filing applications that CMS supports . Marisol stressed the important distinctions and requirements for  family based petitions. Outreach Coordinator Rebecca Rybaltowski spoke about the Immigrant Workers' Rights Program. She highlighted the free Linea Laboral hotline which parishioners can use to report their labor grievances and workers' rights violations. The presentation concluded with Director of Legal Services Robert McCreanor who informed parishioners about CMS' Removal Defense Project and informed parishioners about filing for asylum.During the presentation Legal Intern Ying Li  served as an interpreter for each presenter.
After the presentation parishioners had the opportunity to have their individual questions answered by CMS staff members from each department. This collaboration with parishioners at St. Rosalia's church was made possible by the outreach efforts of CMS' Legal Intern, Mary Dolan.
Fidelis healthcare was on hand to offer parishioners information about their healthcare options and the benefits of Fidelis healthcare.