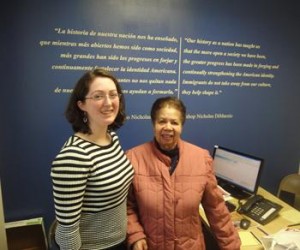 When CMS took her case, Maria was 82 years old. Born in Guacari, Colombia, she came to the United States and worked for many years as both a domestic worker and in a factory. Like so many immigrants of her generation, she struggled to find an affordable place to live in New York City and eventually settled in the immigrant working class neighborhood of Elmhurst, Queens. She and her partner, Fernando, lived together in a rent stabilized apartment from 1988 until Fernando's death in 2010.
As she grew old and could no longer work, Maria relied on a fixed income and the stability of her rent stabilized apartment and the senior citizen rent increase exemption provided by New York City. However, the apartment lease was in Fernando's name and when he died the landlord refused to acknowledge her tenancy rights and the rent increase exemption benefit was terminated. She came to our housing clinic crying and seeking legal advice when she received eviction papers.
CMS took on Maria's case and helped her gather documents to establish her succession rights to the apartment. When the landlord initiated an eviction proceeding in housing court, our office succeeded in obtaining a dismissal of the proceeding. Furthermore, by working with the local New York City Councilmember's office, CMS managed to get Fernando's rent increase exemption benefit transferred to Maria, thereby avoiding another threat of eviction. In this case, CMS worked on multiple fronts to secure the housing rights of a vulnerable, elderly immigrant who worked hard for many years to contribute to our economy.