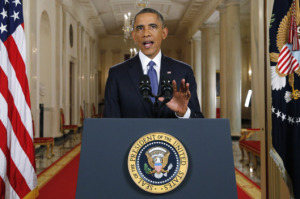 On November 20, 2014, President Obama announced a new policy that will provide an opportunity for certain undocumented immigrants in the United States to apply for a limited form of immigration legal relief.  It is estimated that at least tens of thousands of people within the Diocese of Brooklyn will be eligible to apply this new benefit which will include employment authorization and protection from deportation.
In furtherance of our mission to "Welcome the Stranger", the Diocese of Brooklyn aims to provide reliable information and legal assistance to parishioners and other immigrants in response to the President's announcement. Catholic Migration Services (CMS) will spearhead our Diocesan-wide effort to bring accessible and affordable services to eligible immigrants under this program.
A dedicated hotline has been established at CMS to provide up to date information on this topic. All interested individuals are encouraged to call the hotline at 347-979-9360.
Please be aware that the United States government has not yet established procedures for individuals to get relief under this new program. Therefore, it is important that immigrants beware of advertisements or solicitations which promise legal assistance.
Additionally CMS will conduct a special information session on Administrative Immigration Relief at St. Sebastian's Parish Center located at 39-60 57th St. Woodside, Queens on December 6th at 1:00 PM. All interested Individuals are encouraged to attend.
For more information about CMS, please contact our Brooklyn office at 718-236-3000 or the Queens office at 347-472-3500.  You can also visit Catholic Migration Services.