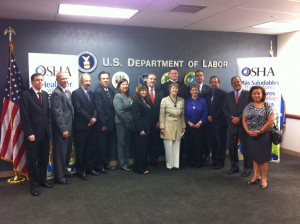 On August 27, 2012 representatives of Catholic Migration Services met with government officials to renew an alliance that has been promoting the rights of immigrant workers since 2009. 
Catholic Migration Services operates Línea Laboral, a toll-free workers' rights hotline, in collaboration with the Consulate General of Mexico in New York, the U.S. Department of Labor's Occupational Safety and Health Administration (OSHA) and Wage and Hour Division, the New York State Department of Labor, and the New York City Office of the Comptroller.  This year, the alliance expanded to include the Consulate Generals of Guatemala, Chile, El Salvador, and Honduras.
The mission of Línea Laboral is to provide a safe venue for workers to ask questions, raise their concerns, report abuses, and learn about their workplace rights.  All workers, regardless of immigration status, can call Línea Laboral at 877-52-LABOR (877-525-2267) for information on their rights regarding a range of employment issues, including minimum wage and overtime, health and safety, discrimination, and retaliation, or to submit a complaint to the U.S. or New York State Department of Labor.  Hotline operators are bilingual in English and Spanish, and assistance in other languages can be arranged as needed.
The alliance was signed at the U.S. Department of Labor by OSHA Regional Administrators Robert Kulick (New York) and Marthe Kent (Boston) and Regional Diverse Workforce Coordinator Diana Cortez; Wage and Hour Division Northeast Regional Administrator George G. Ference; New York State Department of Labor Commissioner Peter M. Rivera; First Deputy Comptroller of the City of New York Ricardo Morales; Ambassador Carlos M. Sada, Consul General of Mexico; Ambassador Julio Fiol, Consul General of Chile; Ambassador Maria Luz De Zyriek, Consul General of Guatemala; Ambassador Francisco Quezada, Consul General of Honduras; Ambassador Sandra Marisol Cruz de Flores, Consul General of El Salvador; and Catholic Migration Services Executive Director Fr. Patrick J. Keating.
Workers who have questions about their rights or would like to file a complaint regarding their pay or working conditions are encouraged to call Línea Laboral at 877-52-LABOR (877-525-2267).
This event was part of the US Department of Labor's "Labor Rights Week."  To see more pictures of these events, please click here.
Article by:
Maureen Hussain
Immigrant Workers' Rights Program Coordinator