Monday September 30, 2013
On Wednesday evening on September 26th the Queens Housing Coalition and Catholic Migration Services gathered with community members for the first meeting of the fall at St. Sebastian Parish. The gathering set a much energized tone for the upcoming year.  Ivan Contreras, QHC coordinator spoke about the upcoming actions and the latest news on the plans for redevelopment of the Willets Point area.  The emphasis of the discussion was the idea that affordable housing needed to be a non –negotiable factor in the plans for Willets Point. There were approximately 90 people present as strategies and ideas were exchanged.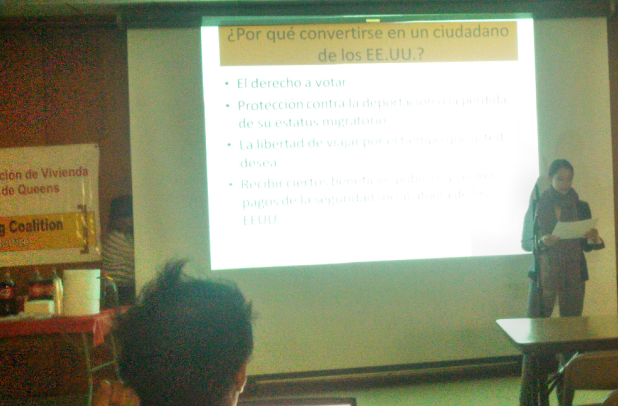 Julia Hernandez, a staff attorney in the Removal Defense Project spoke about CMS's upcoming Citizenship Workshop on October 19th. She shared that the workshop would be hosted by Catholic Migration Services as a collaborative effort with the New Americans Campaign. She outlined the tangible impact that this event would have on hundreds of new Americans.  New Americans who will be able to vote, and travel with ease. She detailed the requirements for eligibility emphasizing that some eligible participants will qualify for fee waiver assistance if they are eligible.
The next QHC and CMS meeting will be held on October 30th.
Click here for more information about the Citizenship Workshop.