Tuesday October 15, 2013
On October 4th and October 11th over 850 attendees representing different immigrant communities in the Brooklyn and the Queens dioceses gathered to celebrate this year's Shining Star Award recipients. In total 30 leaders who have made major contributions to their church and to their community were honored at Gargiulo's Restaurant in the Coney Island section of Brooklyn, NY. The recipients of the awards are selected by their respective ethnic communities. All of the recipients of the awards are selected because they have done outstanding work in the church or they are distinctive leaders in their community. They were honored because they bring unity to the people in their communities.
Guests were welcomed by staff members from Catholic Migration Services and they started their evening with a bountiful cocktail reception. Before the main event began attendees enthusiastically took photographs with The Most Reverend Raymond Chappetto, D.D., V.G., and Reverend Patrick J. Keating, Chief Executive Officer of Catholic Migration Services.
Marisol Canales, CMS Immigration Counselor served as the emcee for both nights. She set a warm introductory tone for the evening with a personal narrative of her work with the immigrant community. On October 4th Reverend Brendan Duggan CSSP of the Irish Apostolate and on October 11th Reverend Ilyas Gill of the Pakistani Apostolate invoked a spiritual tone to the evening with a prayer giving thanks to God. Keynote speaker Reverend Patrick J. Keating referenced the diversity in the room which reflected the diversity that can be found in the dioceses of Brooklyn. He emphasized that each of the honorees reflected the church's message of unity and the commitment to helping others. Robert McCreanor, CMS Director of Legal Services benevolently presented the Shining Star Awards to the honorees of the evening.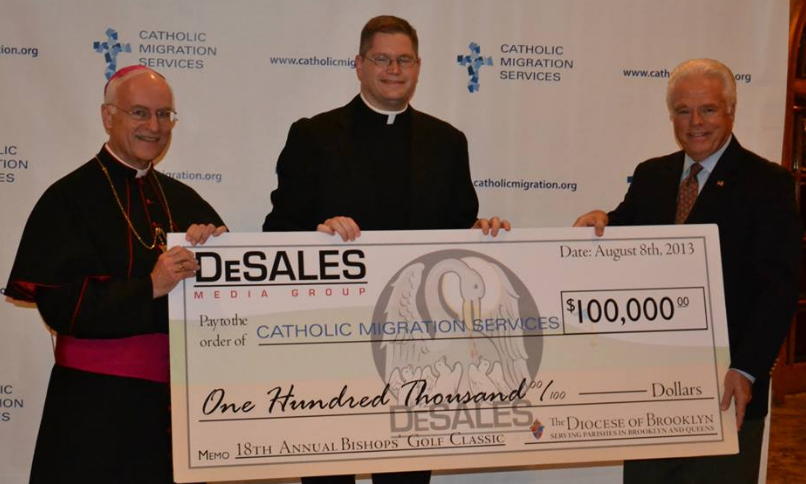 Shortly thereafter Reverend Monsignor Ronald T. Marino, V.E, the Vicar for Migrant and Ethnic Apostolates spoke about the advocacy and organizing work that Catholic Migration Services does with immigrant communities. He distinguished the absent Most Reverend Nicholas DiMarzio, Ph.D.,D.D. as someone who has long been an unwavering advocate of the immigrant community. The final remarks of the evening were made by The Most Reverend Raymond Chappetto, D.D., V.G., He thanked everyone for coming and supporting the very people who work hard in their communities to spread faith, charity and unity on behalf of The Church. The evening concluded with dinner and lots of dancing with music provided by a live band.
October 4th Honorees: Mr. Gamal Abdelmesih-Arabic Speaking Apostolate; Mrs. Eliete Lopes de Oliveira Jeronimo- Brazilian Apostolate; Sr. Irene Ama Serwah Nkromah- Ghanaian Apostolate; Ms. Mae O'Driscoll- Irish Apostolate ; Mrs. Irma Rose Laguerre Alexis- Haitian Apostolate; Sir Anthony Okeke-Nigerian Apostolate; Mrs. Helen Ha Huynh- Vietnamese Apostolate; Mrs. Cheryl Charles- West Indian Apostolate; Mr. George Joseph- Vicariate of Black Catholics; Reverend Jorge Ortiz-Garay-Mexico Apostolate; Ms. Josefa Casatro- Ecuadorian Shining Star; Deacon Jaime Varela- Puerto Rican Shinning Star; Ms. Virginia Vargas- Dominican Republic Shining Star; Mr. and Mrs. Alejandro and Elba Iris Pacheco-Guatemalan Shining Stars; Mr. Rodrigo Mendez- Colombian Shining Star.
October 11th Honorees: Mr. Eric Lo- Chinese (Brooklyn) Apostolate; Mrs. Eunice Chen- Chinese (Queens) Apostolate; Mrs. Pura Lavarino-Gonzalez- Filipino Apostolate; Mr. Paul Sae-Jung Oh- Korean Apostolate; Mr. and Mrs. John and Maria Heyer II-Italian Apostolate; Mrs. Betty Francis- Indian Latin Rite Apostolate; Mrs. Vaclav Sedlacek- Czech/Slovak Apostolate; Mrs. Kresentia J.Silaban and Mrs. Ina Sasongko Indonesian Apostolate; Ms. Ramute Zukas- Lithuanian Apostolate; Mr. Arif Sadiq-Pakistani Apostolate; Dr. Joanna Barbara Lis- Polish Apostolate.
Additional Media Coverage:
The Tablet:http://thetablet.org/shining-stars-with-slideshow/
Currents:http://netny.net/currents/video/brooklyn-diocese-honors-its-immigrants-10713/