Wednesday, April 3, 2013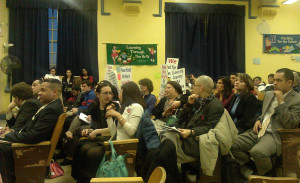 On Wednesday evening, over 120 Queens residents gathered at P.S. 19 in Corona for a town hall meeting on immigration reform with Congress Members Joseph Crowley and Grace Meng. The event was hosted by several community organizations–the Hispanic Federation, Dominico-American Society, Desis Rising Up and Moving (DRUM), La Fuente, Make the Road NY, New Immigrant Community Empowerment, Queens Community House, and Catholic Migration Services.
After opening remarks from Jose Calderon, president of the Hispanic Federation, Assistant Attorney General Dariely Rodriguez spoke about the Attorney General's Immigration Services Fraud Unit, which cracks down on organizations that defraud immigrants with false promises of citizenship and other immigration benefits and charge illegal fees. She encouraged those who have been victims of immigration services fraud to call their hotline at (866) 390-2992.
"The time has come…for comprehensive immigration reform in Washington," exclaimed U.S. Representative Joseph Crowley–who represents Woodside, Jackson Heights, East Elmhurst, College Point, and parts of the Bronx in Congress. Representative Crowley, who has worked on immigration issues for more than 15 years, advocates for reform that provides a path to citizenship, promotes family reunification, and respects the rights of workers. He remains "cautiously optimistic" that comprehensive immigration reform will be realized, given that people on both sides of the aisle–Democrat and Republican–want a reform to pass into law. He encouraged anyone with immigration issues to contact his district office: (718) 779-1400.
During the Q&A session with Congressmember Crowley, a 12-year-old girl who is part of Desis Rising Up and Moving (DRUM) spoke out about the turmoil her family is experiencing in the aftermath of her father was detained for deportation over a year ago. Since her father was detained, her family has been facing severe financial difficulties and is now on the verge of losing their housing. "I feel that I have no future because my dad is not there to take care of us," she said. She pleaded for mercy for her father and for all the other families whose loved ones are detained. Crowley thanked the girl for sharing her family's story, lamenting that the human element has been lost in the immigration debate.
Assemblymember Francisco Moya, who represents Corona in the New York  State Assembly, then provided brief remarks on the New York State DREAM Act, of which he is the author.
U.S. Representative Grace Meng, who represents Bayside, Flushing, Forest Hills, Fresh Meadows, Glendale, and Maspeth in Congress, also discussed her perspective on immigration reform. She is particularly passionate about family separation, stressing the urgent need for reform: "The gridlock of our system shows a serious lack of compassion for our families." Meng is a co-sponsor of the Reuniting Families Act, a bill that seeks to reduce the backlog for relative petitions and the number of families separated by deportation of a loved one. "We are one," she affirmed, "and I am on your side."
Following Congresswoman Meng, a panel representing the community organizations sponsoring the event discussed immigration reform from several perspectives. Julio Hernandez of the Dominico-American Society discussed possible requirements for adjustment of status if immigration reform passes into law. Valeria Treves of NICE discussed the rights of immigrant workers. Lucia Gomez of La Fuente talked about the importance of family reunification in the conversation about immigration reform. Finally, Bianey Garcia of Make the Road NY discussed the importance of including the LGBTQ community in immigration reform.