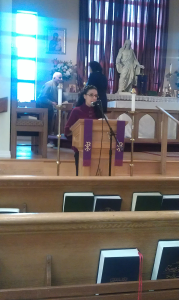 This weekend CMS' staff attorney Mariam Magar conducted outreach to Arabic speaking parishioners in parishes in Brooklyn and in Long Island City.
On Sunday, March 30th CMS' staff attorney Mariam Magar presented CMS' services to parishioners of El-Salaam Church in Brooklyn and to parishioners of St. Mary and St. Antonios Church in Long Island City. In total approximately 100 parishioners received information about CMS' free legal services and detailed information about SCRIE and other city programs which CMS offers application assistance. After her presentations, Mariam provided free on site consultations with parishioners and set up follow up appointments for follow up consultations. Fidelis Health Care and Catholic Charities were present to offer their services to parishioners.
To contact our Arabic Outreach coordinator Mariam Magar call 1-347-425-3500.