Wednesday, September 4, 2013
On Wednesday night, Catholic Migration Services, New York Immigration Coalition, Health First, Health and Hospitals Corporation, and Arab American Family Support Center participated in a town hall meeting to discuss the impact that the healthcare reform would have on immigrant communities. A panel discussed the new healthcare reform and its impact on the immigrant community. The discussion was held at the New York Immigration Coalition offices on 137-139 West 25th Street in New York, NY.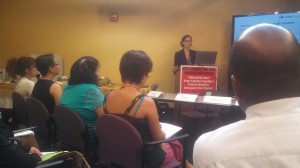 Approximately 30 people gathered to hear panelists discuss the future of health care services, the different ways that organizations can do outreach in immigrant communities so that they can understand how they can benefit from the healthcare reforms.
For more information on access to affordable health care and health insurance, please visit: www.fideliscare.org