Wednesday, March 20, 2013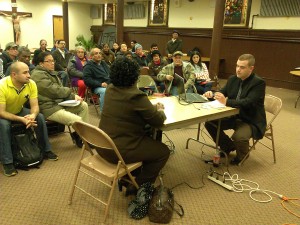 On Wednesday night, Catholic Migration Services teamed up with NALEO Educational Fund to host a citizenship information session with U.S. Citizenship and Immigration Services (USCIS) in Elmhurst, Queens.
More than 30 legal permanent residents (Green Card holders) and their families attended the event, held at St. Bartholomew's Church. Shyconia Burden, Community Relations Officer at USCIS, gave a presentation on the citizenship application process. She explained the basic eligibility requirements for U.S. citizenship:
1) 18 years or older
2) Legal permanent resident for at least 5 years, or at least 3 years if married to a U.S. citizen
3) Continuous residence in the U.S. for 30 months, or 391 days
4) Physical presence in the U.S.
5) Lived in district or state in which applying for at least 3 months
6) Have good moral character for at least 5 years
Shyconia also discussed the English and civics exam that an applicant must pass during the interview to become a U.S. citizen and the test exemptions available for the elderly, disabled, and members of the U.S. military. Finally, she explained the oath ceremony, the last step of the application process that demonstrates a person's belief in the U.S. Constitution and democratic government.
After the presentation, Shyconia and Stephen Wittreich, an Immigration Officer at USCIS, conducted a mock citizenship interview for the audience to help attendees prepare for their own interviews.
Following the interview, Shyconia and Stephen took questions from the audience. Attendees raised a number of concerns, including when to submit documentation, what to do if you make a mistake on your application, and what to do if you owe taxes when you apply for citizenship.
After the event, Shyconia encouraged the audience to seek Catholic Migration Services and NALEO's assistance in applying for citizenship, declaring that CMS and NALEO "are very good partners" of USCIS. As they were leaving, attendees received copies of study materials published by USCIS for the civics exam. CMS immigration attorney Sharone Kaufman answered basic questions about applying for citizenship, and Public Ally Kimberley Kearns and Línea Laboral Operator Rebecca Rybaltowski registered people for a citizenship application workshop in Brooklyn on Friday, March 22.
This event was part of Citizenship Week, a week of events on the citizenship process to celebrate the New York City launch of the New Americans Campaign, in which Catholic Migration Services and NALEO are local partners.
If you are interested in applying for U.S. citizenship, please contact our Queens office at (347) 472-3500 or our Brooklyn office at (718) 236-3000 to make an appointment with an immigration counselor.