Friday, November 30, 2012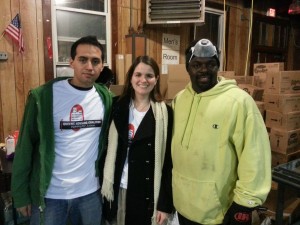 On Friday evening, Queens Housing Coalition coordinator Ivan Contreras and Public Ally/Capacity Building Specialist Kimberley Kearns delivered donations to St. Camillus Church in Rockaway Park.
Donations of food, cleaning supplies, and personal care products were collected during the monthly Queens Housing Coalition meeting on November 20th, when coalition members met with Council Member Ferraras to discuss the Willets Point development plan (read more here).
St. Camillus Church is a donation and volunteer center located on Beach 100th Street, (between Rockaway Beach Boulevard and Shore Front Parkway) in Rockaway Park, Queens. It is operated by Occupy Sandy, a grassroots coalition of people and organizations dedicated to providing relief to those affected by Hurricane Sandy in New York City and New Jersey. St. Camillus is currently accepting volunteers and all donations except clothing. If you would like to volunteer at or donate to St. Camillus, please call (646) 543-5324.