Saturday, November 10, 2012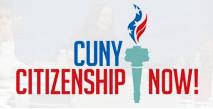 On Saturday, Megan Helbling (Immigration Counselor/Outreach Specialist), Jeanne Sanon (Immigration Counselor/BIA Accredited Representative), and Kimberley Kearns (Capacity Building Specialist/Public Ally) volunteered at a Haitian TPS Application Assistance Day  at P.S. 181 in Brooklyn.
TPS is a temporary legal status  granted to Haitian nationals after the earthquake that devastated Haiti in January 2010. Temporary Protected Status also offers Haitian nationals the opportunity to apply for work authorization, which permits them to work legally in the United States.
The event, organized by CUNY Citizenship Now! and co-sponsored by the Legal Aid Society's Immigration Law Unit, provided assistance to hundreds of Haitian nationals seeking to renew their Temporary Protected Status (TPS). A Haitian Creole speaker, Jeanne provided translation services to clients who spoke limited English. Megan assisted clients applying for a fee waiver from U.S. Citizenship and Immigration Services (USCIS). Kimberley assisted clients completing applications for TPS and employment authorization.
City Council Member Mathieu Eugene, the first Haitian-born official elected to City Council, and State Assemblymember Rhoda Jacobs addressed attendees at the event and expressed their support for the Haitian community.
For more information about CUNY Citizenship Now!, click here.
For more information about the Legal Aid Society's Immigration Law Unit, click here.
The deadline to apply for Haitian Temporary Protected Status renewal is Friday, November 30, 2012. If you are Haitian and need to renew your TPS, please call Catholic Migration Services' Brooklyn office at (718)  236-3000 or Queens office at (347) 472-3500 as soon as possible.